WEATHER
While still hot and humid, September marks the end of the oppressive heat of the summer months. Temperatures range from 25C to 30C. Short sleeves and cotton are best, with a lightweight sweater for air-conditioned restaurants.
CURRENCIES
Legal tender is the Hong Kong dollar (HK$). There are 100 cents in a dollar. Since the mid-1980s, the value of the Hong Kong dollar has been pegged at HK$7.8 to the US dollar, and consequent rates of exchange to other currencies. However, the market rate exchange to the US dollar fluctuates marginally. Notes come in denominations of HK$10, HK$20, HK$50, HK$100, HK$500, and HK$1,000; and coins are 10 cents, 20 cents, 50 cents, HK$1, HK$2, and HK$5, and HK$10.
COMMUNICATIONS
Telephones
As a global communications hub and one of the highest per capita users of cellular phones, Hong Kong thrives on efficient telecommunications. Local private landline calls are free and cost only HK$1 for five minutes from public telephones. Hotels usually make a charge.
Mobile Services
Using your mobile phone in Hong Kong is convenient as most of the telephone systems used around the globe - like GSM 900, PCS 1800, CDMA and WCDMA - operate in Hong Kong. Mobile operators in Hong Kong also have roaming agreements with most overseas operators enabling visitors to use their own mobile phone when they come to Hong Kong.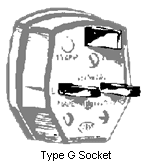 ELECTRICAL CURRENT
The standard electricity supply is 220volts AC. Outlets use the 3-pin system. Visitors may require a transformer and a plug adaptor. A plug adaptor is necessary to convert 2-pin plugs to the standard 3-pin plugs and these can be bought at any airport or electrical supplier.
HONG KONG INTERNATIONAL AIRPORT

Hong Kong International Airport (HKIA) has been recognised as the world's best airport for the sixth time in seven years in the annual Skytrax survey and named Asia-Pacific's Most Efficient Airport in 2007 by Air Transport Research Society. Over 100 airlines operate flights to about 190 locations worldwide, including 42 destinations on the Chinese Mainland. http://www.hongkongairport.com/
Passenger Guide: http://www.hongkongairport.com/eng/passenger/index.html
TRANSPORTATION TO AND FROM THE AIRPORT
Getting to and from the Hong Kong International Airport is easy, convenient and relatively inexpensive.
Rail
The Mass Transit Railway (MTR) high-speed Airport Express is the fastest way between the downtown areas and the airport. The line whisks passengers from Hong Kong Station adjacent to the Central MTR Station on Hong Kong Island via Kowloon and Tsing Yi stations to the airport in about 23 minutes, trains run every 12 minutes. A free Airport Express shuttle bus service from Hong Kong and Kowloon stations serves major hotels. Both these stations provide free in-town check-in services. Details of train fares and operating hours >>
Taxis
Taxis are readily available from the taxi pick-up area in front of the Arrivals Hall. All taxis can go to and from the airport. All fares are metered and there are fare details inside each cab.
Buses
There are eleven convenient Airbus routes called "A" routes that can take you to and from the airport with fewer stops than an ordinary city bus. Fares range between HK$15 and HK$48. When you exit the Arrivals Hall, turn right for Airbuses and ordinary city buses ("E" route buses).